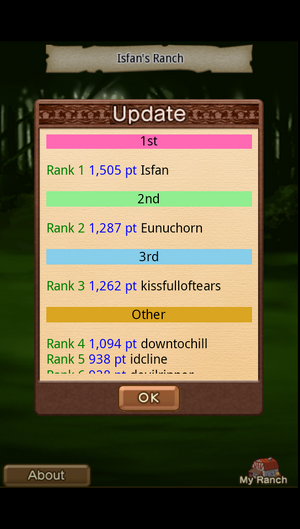 So the event is over. A new one has already begun, however this one just needs my attention every 1-3 hours. So I can have a bit more brathing room with it. I managed to get first place in the Halloween Event by a mile. I was knocked out of first for a bit, but the Rankings were updated in the middle of the day. I always got the bulk of my points at the end of the day, using up everything I didn't use up naturally during the day before the day ended. Apparenlty kissfulloftears was a start of the day sprinter, and also thought that the event ended when the rankings came out. Poor thing got knocked to 3rd place because of that..
My Rare collecting is basically over. I only need 3 more rares. All of them have disks available to me. Chaos Dragon and Pandibaku I have on disk right now, and the new rare Mew is called Mewtaro and I'll get him whenever I get up to 60 Origami Helmets. Heatherscott told me about him, she's a super expert pro at these battle events. Though it does mean she'll be losing sleep..
I'll try to complete Junior today. Maybe even Monol, if I have teh energy. It's been awhile so I lost my momentum and familiarity with how to quicly set up everyone's pages.
After that I plan to convert the current Category Pages into regular pages, then set up actual Category Pages. It'll be a huge long process... but... Something that needs to be done.
After that I think the next thing I'll do is update techniques to full. And after Techniques I'll go for Adventures/Items/Battles.. So much damn work. x3
I've also been cateloging much of the events with screenshots. I hope to start creating special pages just for them, maybe even in their own category.
This game has so much, and I'm learning so much. It's hard to record it all just in personal documents, much less format it for a Wiki. =P I sholdn't be up right now, I'm heading out in an hour and a half and I need more sleep. I'll be back later guys.
~ Isfan ♥
Ad blocker interference detected!
Wikia is a free-to-use site that makes money from advertising. We have a modified experience for viewers using ad blockers

Wikia is not accessible if you've made further modifications. Remove the custom ad blocker rule(s) and the page will load as expected.