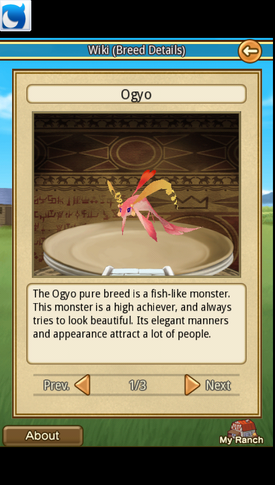 Go Back to Monster Families page.
Ogyo Family
Level 3/4- Axel Spin (Speed raised by 20%)
Level 7- Water of Vigor (Life raised by 100)
Level 12- Final Dance (Speed lowered by 30%)
Basic One- Aqua Twister (Intelligence raised by 30%)
Basic Two- Double Axel (Speed raised by 30%)
Special One- Axel Combo (Speed raised by Level * 4%)
Special Two- Break Sonar (Defense lowered by 50%)
Super One- Ultra Ice Laser (Skill raised by 70%)
Super Two- Acrobatic (Speed raised by 80%)
Awakening One- Aqua Blizzard (Intelligence raised by 60%)
Awakening Two- Absolute Zero (Skill raised by 120%)
Ultimate One- Tidal Wave (Intelligence raised by 160%)
Ultimate Two- Quadro Accelerator (Speed raised by 200%)
Power- Tail Whip (Power raised by 20%)
Intelligence- Aqua Tornado (Intelligence raised by 40%)
Skill- Laser Beam (Skill raised by 20%)
Speed- Triple Axel (Speed raised by 40%)
Defense- Water Barrier (Defense raised by 20%)
Life- Water of Healing (Life raised by 30%)
Derived- Ice Beam (Skill raised by 40%)
Ad blocker interference detected!
Wikia is a free-to-use site that makes money from advertising. We have a modified experience for viewers using ad blockers

Wikia is not accessible if you've made further modifications. Remove the custom ad blocker rule(s) and the page will load as expected.