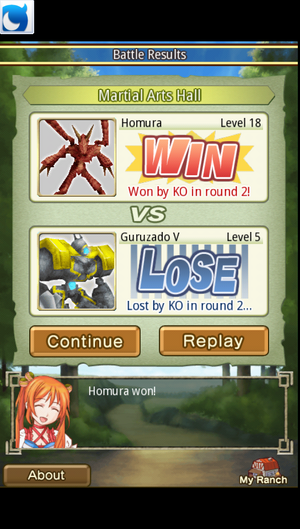 Go Back to Golem Family page.
Guruzado V
One of two new Rares introduced to the game during the Martial Arts Hall event adventure. The other new rare is Eyengel.
Trivia
Just released in the Martial Arts Hall event, the Area #2 Boss is called Guruzado V. In the past, depending upon the adventure Boss monsters have been known to have their actual names used in some cases and in others have been given a nickname besides their breed, so it isn't known yet if Guruzado V is the official name or a nickname given to the new Rare Breed of Golem. However, since the third Boss Battle is against a Ragnarok named Ragnarok (see below), it is assumed that Guruzado V is the official name. Initially upon release, the event was glitched. Backgrounds appeared as green with black boxes in a grid, as well as the Monster Image portraits. Upon faces the boss monsters, it would have 0 total stats. At approximately 1:40PM (PDT) on October 10th, a notice was sent out that the servers had been updated, and anyone currently playing the game was went back to the Start Screen to join the game anew. After this update, backgrounds for fights had been fixed, as well as images for Boss Monsters. However, Boss Monster adventures that started before the server update continued to have the monster's stats in battle be a total of 0, even though the Fight Page listed them as having non-zero total stats. (See image below) Boss Battle Adventures started afterthe server update will have the Boss Monsters possess the proper stats and skills.
Ad blocker interference detected!
Wikia is a free-to-use site that makes money from advertising. We have a modified experience for viewers using ad blockers

Wikia is not accessible if you've made further modifications. Remove the custom ad blocker rule(s) and the page will load as expected.